...kind words from our customers.
---
Hi Joe & Heather, just to say how sorry I was to find you were no longer in business, but would like to wish you a long and healthy retirement. I only dealt with you once (Ford Capri cylinders to England) but what a pleasure it was, and what a superb job you did!! Again, very best wishes from the UK! Steve
---
In the past I have had you do excellent work on cylinders for whatever current vintage Jaguar I was then restoring. I now find that you are retired, which makes me so sad. Initially my sadness is from a selfish standpoint, however I do SINCERELY wish you and your beautiful and loving wife/helpmate the very best in the future! You were the best and you ARE the best. You are what America is really all about: individuals doing the best of what they choose.

Sincerest best wishes!!!

John G.
Cincinnati, OH
---
Hi Folks, Was checking you guys out for some wheel cyls. and see you have retired. Fantastic! Good luck and best wishes for what ever life brings your way. I appreciate the work that you did for me in the past.
Sincerely, Tony L.
---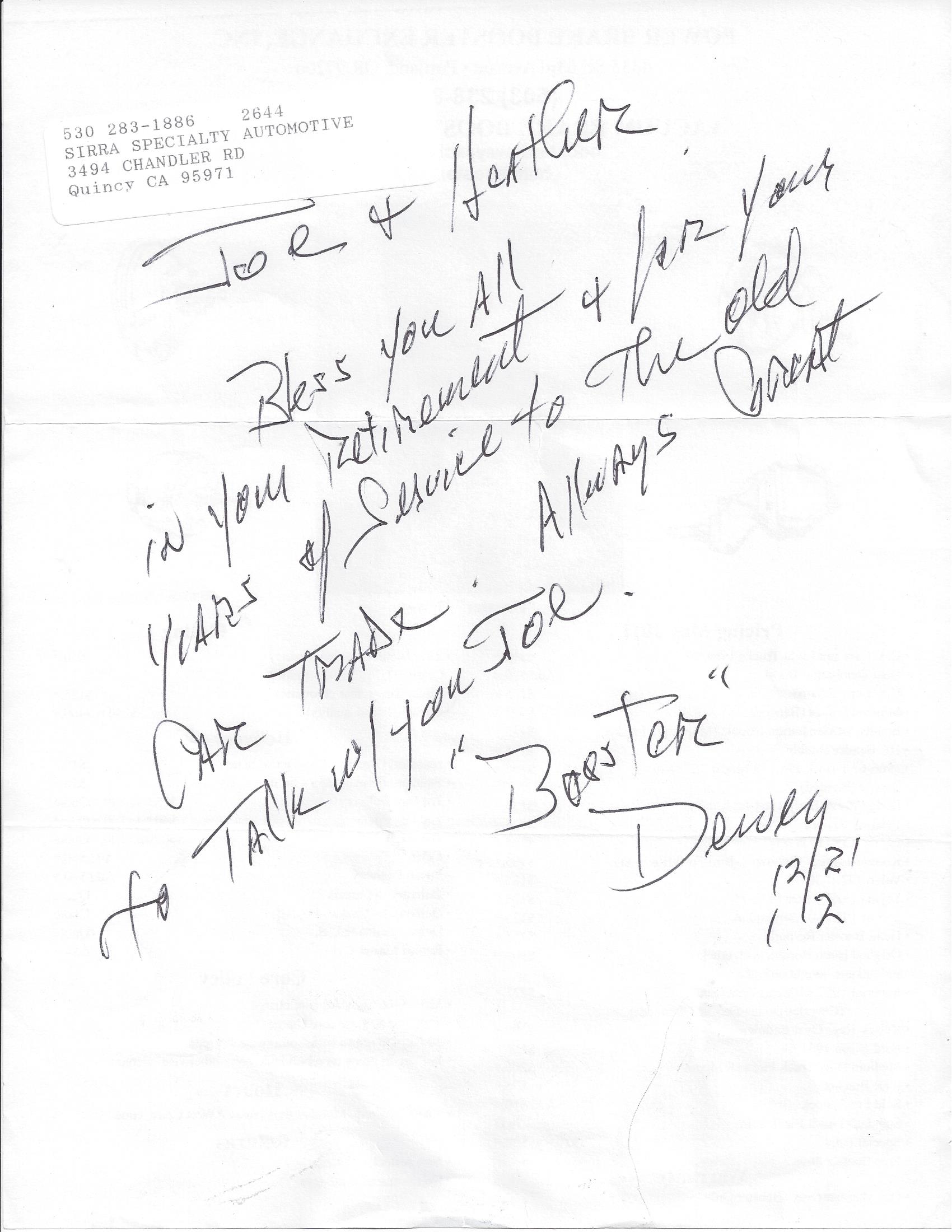 ---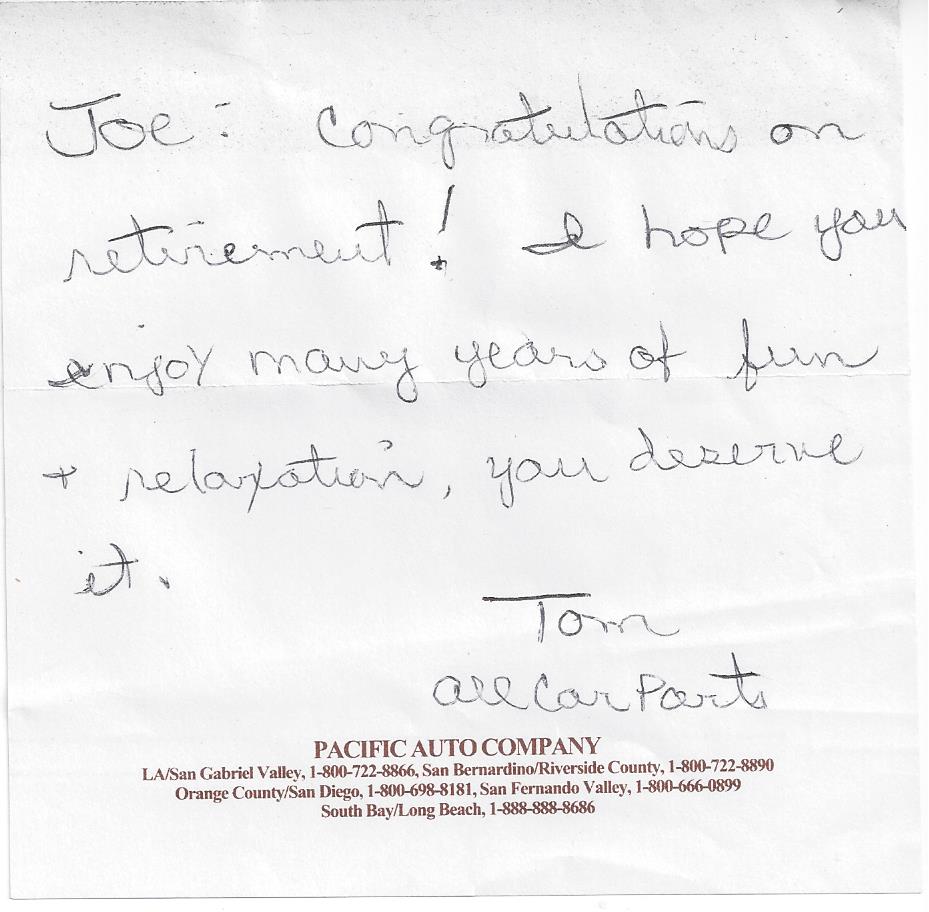 ---
Received the master, looks great. Thanks for the supreme service.
Ron
---
Gentlemen:
Per conversation this morning by telephone, I need this wheel cylinder re-sleeved.
The master cylinder and other brake cylinders you've done for me recently were beautiful.
George G.
---

---
Joe, You did my master cylinder a few years ago, it is fine.
I have a CNC clutch master cylinder that needs the same treatment. Can you do it? it is an aluminum unit with a 5/8 inch bore.
All the Best, Dick R.
---
Joe, It has been a few years, but I finally finished the Kissel you resleeved. Here is a picture of the finished product.
Ken M
---
Hello Joe,
Last year you restored several 1968-70 Mustang master cylinders for me that were the best restored brake parts I've ever had done. I've given your contact information out to many of my customers who have said they had the same experience as I did.
Best regards,
Jack B.
---
The reason for my note is I have a clutch slave cylinder that needs a sleeve. The size is 0.875" Dia x 3" deep. Could you give me a price please. You have done cylinders for me in the past, did a nice job, and best of all none are leaking !

Regards, Bob
---
Hi Joe,
The MC arrived today. Gorgeous work!

With your permission, I would like to post a photo and a recommendation on the Alfa Romeo bulletin board.
Thanks Again,
Jon
---
Hi Joe, just to let you know the cylinders arrived safely today, which is incredible! I have to say they are absolutely BEAUTIFUL !!!! They won`t be fitted until I`ve shown them to anyone who`s interested. It's always great to see something which has been done absolutely to perfection. I am just so impressed !!! Thanks again for ALL your help God bless!
Steve
(These cylinders were send from England, and made the return trip very quickly)
---
I just wanted to say Thank You for the fine job you did on my master cylinder. Merry Christmas.
James H.
---
Dear Joe,
Cylinders arrived, work great! Not that I am surprised!
Congratulations on your 16th year of service, and yes, you're right for I must have been there at the start, back in 1993! I have NO recollection of how I found you, though...them were pre-internet days!
---
Thanks Joe. There is nothing like time and experience to bring knowledge and answers. Glen
---
HELLO, I JUST WANTED TO TAKE THE TIME TO COMPLIMENT YOU ON THE NICE WORK, PARTS LOOKED VERY NICE IT SEEMS THAT QUALITY OF WORKMANSHIP IS BECOMING A DYING ART, SO WHEN SOMETHING IS DONE CORRECTLY THE FIRST TIME I THINK IT SHOULD BE ACKNOWLEDGED! THANKS ONCE AGAIN DANNY C.
---
Joe: I don't know whether it works or not, but it looks beautiful!. I happened to find you when I was doing a Google search concerning repairing/rebuilding master cylinders. Why aren't you advertising in Austin Healey Club magazines, etc? Moss Motors and Victoria British certainly are and you are substantially cheaper. Thanks for the prompt service.
Frank R.
(note from Sierra Specialty--we don't advertise more because we're already as busy as we care to be.)
---
This is Lyle S. up in Oregon. I just wanted to let you know that my cylinders that you sent, arrived today, safe and sound. Look nice. Thank you, and just in time. Lyle S.

---
Joe,
Master Cylinder arrived today. It looks great and the brake piston
moves very freely (unlike my rebuild). I see what you mean about the
outer cup not seating correctly all the way around. Obviously the
problem.
Thanks for the great work,
Mike
---
Hello Joe, I meant to send you an e-mail to say the cylinder looks great and to thanks you for the good job. But my computer had a meltdown and I just got a new one and got it up and running. When I get my other cylinder ready to restore I'll be contacting you for sure. Thanks again, Jim J
---
Joe:

Thanks again for the rush service. The master cylinder looked fantastic, whatever
cleaning machine you have is super.

Andy W
---
I got it and it's already on the bike! Thanks, Joe!
I'll spread the word about your work. Regards, Bill
---
Joe, I received the rebuilt cylinders today, as you promised. They look great! Now to get them on the car (along with everything else). Thanks, CB

---
Hi Joe, I have been real pleased with the master cylinder you did for me on my IH pickup. Now I have a clutch slave cylinder that needs a brass sleeve. Would you quote me a price please? Can I pay with a credit card or do you prefer a check to accompany the cylinder? Thanks L. G. S.

---
Hi Joe:
Cylinders just arrived. They are Perfect and Beautiful. Thank you very much, be sure I will recommend you to other antique cars enthusiasts in Puerto Rico.

Best wishes,

Stuart

---
Good Evening Joe,

This is to advise I received the 1951 - Merc Master Cylinder today c/w
the copper washings and everything appears to be in top-notch shape. Thank you
for completing the job so promptly. Thanks Joe.

---
Hi Joe!!! The cylinders arrived save and sound!!! They look gorgeous!!! The shop here says you did a great job. I think they look just super. ..even the snap ring undercut, on the slave cylinder. Thanks again for your good efforts and great turnaround, in time. I would/will always recommend your services. Thanks you again, for everything.
Frank
---
Joe -
The 3 master cylinders, 4 brake cylinders and 1 clutch slave cylinder that
you sleeved for me arrived today. I was both surprised and pleased with
the quick turn around. And the cylinders are beautiful. I expected a
great sleeve, but the exterior is beautiful, the best they have looked
since I bought the car in 1967. And to my surprise the bleed screws appear
to be anodized blue; I don't know if you did that or it is original, but it
is really cool.
Thank you for the great service. Norm H. said that you have done many
S600 cylinders for him and I can see why. I hope that this will be the
last rebuild for my S-car, but if not I at least won't have to worry about
the bodies. Be sure that you will get the credit for the brakes and that I
will gladly recommend your service when I have the chance.

Gil
---
JOE.......Thanks for the update, super fast turn around, tracking # and
extra parts......if I or any of my car buddies have wheel/master cylinder
needs we will be contacting you. it is people like you that make owning
and old car fun.
Phil
---
Joe,

Here are some pics of my bugeye sprite of which you repaired the master cylinder for. Got it all back together tonight. The Bugger is happy and we can continue with our summer.

Cheers,

Jame

---
Hi, Joe/Heather: Master Cylinder arrived today- - -BORE LOOKS FANTASTIC!!!! SERVICE WAS QUICK!!! EXTRA LITTLE PARTS MAKE A SUPER DEAL EVEN BETTER!!! Use my name as a reference anytime! Call on me if you need anything here in Michigan! Art

---
Hi Joe,
You guys are great, I can't remember the last time I had such great service!
I've put you at the top of my list, I'll defiantly recommend you to anyone
who needs this kind of work.

Take Care
Doug
---
Joe, Got them the other day, you did a great job on them it's always been a pleasure doing business with you
Larry
---
I received my cylinders and they look fantastic. The new pistons slide
in easily into the new cylinders without the slightest bit of play. you
did great work, thanks!

Ian
---
Joe, Got the master cyl today it looks great you do GREAT WORK thanks for all the help with it
Larry H.

---
Hi,
I got the package on Friday and everything is in order, even fitted, bled the system and took it for a very short test drive on Sunday afternoon, much to the dismay of a grumpy old guy down the street. I drove it with just the branch manifold and no silencer. Thank you for all the effort! The quality, service and experience are excellent! Regards,
Andries
---
Joe,

My WC arrived just as I got home from work last evening. What a beautiful job! Thanks for the expedited service. I got it installed this afternoon. My son and I will bleed the brakes in the morning. You can count on my referrals should anyone ask me. Also, should I need any of the others done, you're the man!

I'm attaching a picture of my 1936 Plymouth so you can see what I have been working on.

Thanks again and best regards,

Mike
---
Joe,
The cylinders are installed and they work fine. I will E-mail you a picture of the Healey soon.
Jim B.
---
Joe, just a short note to let you know I installed the MC and the clutch effort is reduced by about 50%. It makes the car much more drivable. You did great, and I'm gonna let my friends know. Thanks again.
Lee R.
(This master cylinder was one of the GM cylinders we converted as described here)
---
Joe, I just received the newly sleeved cylinder and it looks great. Thank you so much for your help and the quality workmanship.
Jim H.
---
Took the car out on Route 51 (4 lane, limited access) for a few
miles and then drove around town a bit - what a difference from before.

I can hardly feel the clutch pedal now and gear changes seem much
smoother than before.

Thanks again for all your help and advice.

Regards,

Charley B
(This master cylinder was one we modified as described here.)
---
Joe,

Got my parts today and I must say that I am very happy with your work. They are a work of art. It is gratifying to see that there are still craftsmen in the US today that do good work. Thank you very much.

Joe H
---
Hi, I just wanted to say thank you for such a quick turn around time on my 1962 Impala master cyl. I couldn't believe it when the UPS guy delivered it so quick. You have a great service to the automotive culture. Thanks again,
Jim B
---
Hi,
You did such a fine job on my '62 Olds master cylinder a few months ago that I'm sending you another. This one is off of a '61 Olds Ninety Eight convertible. The bore doesn't look too bad, but the pedal was quite soft & the booster turned out to be full of brake fluid. I don't want to take a chance by just throwing a new kit into it, so please work your magic.
Chuck T.
---
Joe,

I received my rebuilt brake cylinders and got them reinstalled and
working perfectly. Thanks again for the service.

Ted L.
---